On sale at concerts ! or mail us at   bix1@hotmail.com
Some of our tunes are on Sound Gallery

9th CD « Cadre Doux, neuf » Released in July. 2019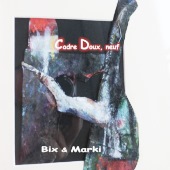 The CD was recorded in June and July 2019. The title can be translated into ' soft frame, and new- no. 9' and relates to some of our interpretations with ambient sounds, especially the longer intro parts. We travelled with Belgium based artist Ariane in the Spring Tour and got happily influenced by her meditative soundscapes. There are 2 new instrumental songs 'Cadre doux' and 'La voix est là' in addition to a more technically relaxed interpretation of all the 12 songs of CD 5 and 6. This is our 9th album: neuf !
8th CD « Un hasard bizarre des arts » Released in July. 2018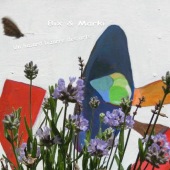 This album is a recording of the same songs as CD 1 and 2 which were the first songs we recorded almost 8 years ago. What a coincidence (un hasard, in French) … Is it just by chance or is something really behind what happens in life. When Marki took the picture for the cover, he put a painting of Bix' behind the lavender flowers in front the house. He pushed the shutter down and just at that instant, a butterfly passed and got on the picture. It was a real one. In the CD, there is the 'papillon migrateur' song ! (migrating butterfy) . Art might bring us closer to things that happen but that we didn't know were actually related… Is something a dream, is it true, was it expected…. The songs are the same as before, but different, with all the experience gotten from playing them, and a lot of coincidences. There are also instrumental 'hasard bizarre' songs.
7th CD « On est rentrés » Released in July. 2017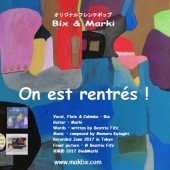 For the previous 6 albums, we recorded the new songs of each album just before we set out on a tour… Playing all the songs in various places for many different people nourishes the songs and the way we play. We decided therefore to make a new recording of the songs from albums 3 and 4 into this 7th album in 2017… The energy is different, the songs are stronger and clearer. In addition to all the songs of the 2 albums, like 'Un soir d'été', 'Impressionniste', 'L'hiver en vers', 'Appeler tes étoiles', ... we created 4 more (instrumental) songs. 'On est rentrés', 'Promenade à Tioman', 'Les 3 moustiquaires' and 'Le chemin infini' which all take us back to the days when we were travelling around, played with ethnic percussions and the ukulele. They remind us of who we are inside, after travelling… On est arrives ! Yes, we are back !

6th CD « Six planètes » Released in July. 2016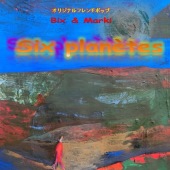 This 6th album is a firework of Bix&Marki's musical influences. In "Nuages du Vésinet", there are clouds in Bix's hometown around the harmonies inspired by those of the great jazzman J. Coltrane. With samba feeling rhythm, a big calimba sounds as if playing into the deep sea: "Plongée torride". We walk around in a picture by Mondrian and encounter surrealist situations in today's world, reminding us of those of Ionesco's, in "Monde riant". We look for adventure & love in a multicultural place : "Les aventures au calin". A boat is leaving a Spanish port in "La pluie sèche". In "Le dernier paysage", we draw a picture of what remains of our past.

5th CD « Fresque » Released in March. 2015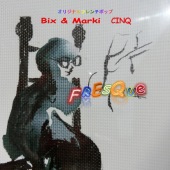 We may see our society as a stage, where we laugh, jump up and down, on or off the stage, playing today like people did in the Middle-Ages (Sautez la sotie). Inside us, there is a forest of feelings… (Sentimentologie).
A painter paints the sky in the ceiling of a church, but beyond the ceiling there is the real sky. What is freedom (in Fresque)... we can't change things, we can't get away, we can only live in our own dreams. Time passes and life goes on. Bix's ink drawing on the cover of CD shows an older lady telling her story... we are traveling further on a path, with our songs.

4th CD « L'esprit plastique » Released in Sep. 2013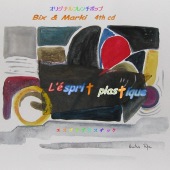 Among the 6 songs, «L'hiver en vers», describes the feeling of waking up in the futon on a cold Winter morning, and looking out of the window at the blue sky of Tokyo. «Pétale confirmé» honours the unstable life of troubadours and musicians, who are bringing their music on their journey. «L'esprit plastique» is about consumerism vs. ideals in this society, where everyday life has one rhythm and the individual another. The cover is a painting by Bix, acrylic on papier.

3rd CD « Impression caline » Released in Aug. 2012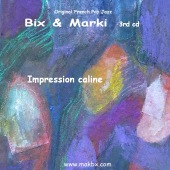 «Au Calin» :in an older building in the centre of Tokyo, things from around the world are sold… colors and shapes from other countries contrast with colors and shapes in Tokyo. «Impressionniste» is a song about nature and light, a walk on the beach in Northern France or Belgium, and green, blue misty shades. «L'interstice de la nuit»: we spent a wonderful time a few years ago on the island of Corsica, we started playing this song on the sea side, in a village, under a tree in the evening heat. The guitar on this CD is a full-acoustic guitar. The cover is by Bix, pastel on rice paper.

2nd CD « Jeter un coup d'amour » Released in March 2012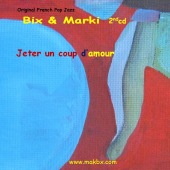 «Jeter un coup d'amour» : one parent each left us that year. Deep Fjords, waterfalls, smiles on their faces. Les «Papillons migrateurs»: some butterflies fly more than 4000 km to reach another continent, looking for a new life. «Le cactus chauve» was Marki's first piece, for the group composed in Brussels in 2009. It was also the starting point of our collaboration.

1st CD « Mini-CD no.1 » Released in April 2011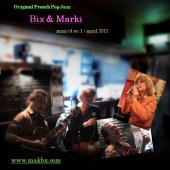 We wanted to help the victims of the Tohoku-tsunami, north of Tokyo and decided to make a CD of our songs. We sold it to collect funds, which we sent to the Japanese Red Cross. «Les deux ombres» reminds us of the time when we played with our African musician friends in Brussels, just before coming back to Japan in the Summer of 2010. Music, wishes,hopes and a feeling of unity. «Est-ce vrai?»: somebody comes back in a dream, or is it in the reality ... remembering. «L'avion dans la pluie» : a plane made of paper, flying in the rain... feelings go up and down, every day. «Oiseaux qui chantent» : listening to the so many birds in our neighbourhood in Tokyo… our friend left us too soon.

« AKOGINA YORU » Spike Bar Joint Compilation vol.4
(Nights of acoustic guitar)   Released in June 2013
Omnibus album, with songs of several song writers in Tokyo.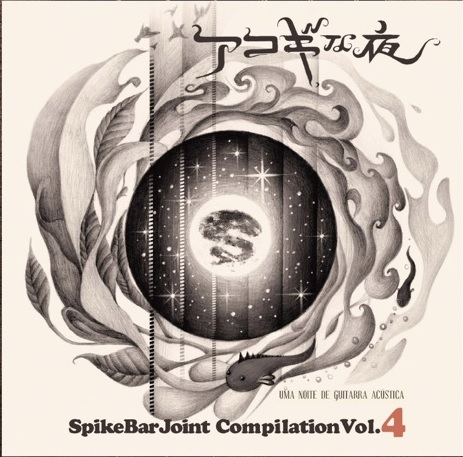 Includes «L'hiver en vers» (2nd version) of Bix&Marki. Two pieces by Ponta(sax) & Marki. We played for the first time in Cozmos Café in Feb. 2011, as guest musicians for another band.
Later that year, M. Spike (manager of Cozmos Café and music producer) asked us to play at the acoustic guitar night every month. He produced this omnibus CD. All songs were recorded at Cozmo's Café.