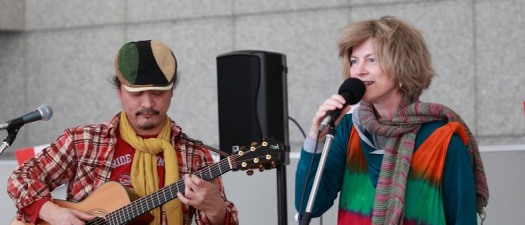 Bix & Marki Profile

Bix&Marki, a duo of original acoustic soft jazz-French chansons, was created by Bix (Beatrix FIFE) and Marki(Mamoru KATAGIRI), when they came back to Japan after 10 years spent in Brussels, in the end of 2010.
After having graduated in jazz guitar from the Conservatoire R. de Bruxelles and played various kinds of jazz music, Marki started composing tunes with harmonies and rhythms adjusted to Beatrix's lyrics, whispering voice and flute solos.
The French lyrics and the rhythm of the music and language, as well as the melodies, have a feeling of Japanese manga and French surrealism: in a contemporary way, being at the same time an insider and an outsider of the society,
6 CDs have been recorded.
Their life and music philosophy brings them to play concerts in various parts of Japan for different audiences, in different places.
Welcome to our concerts !
3 songs can be listened to on the Sound Gallery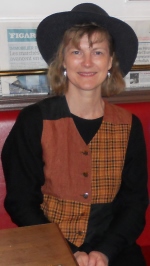 Beatrix Fife "Bix"
Bix writes the lyrics, sings and plays flute solos in Bix&Marki. As well as in the flute playing and the singing, she explores the open space between reality and dreams, the conscious and the unconscious. She learned the classical flute from age 7 to 18, and then has played in bands, progressive rock, folk, jazz. She studied visual arts at the Fine Arts academy of Budapest, Hungary, before coming to Japan in 1990. In Kyoto, Bix studied calligraphy and various forms of visual Japanese arts. She developed performance art together with philosopher Michael Lazarin and Mamoru Katagiri from 1995 to 1999, and played for various dance companies in the Kansai area from 1997 to 1999. She went to Brussels, Belgium, together with Mamoru in 1999 and founded the Bix Medard electropop group with Peter Clasen from Neven. She has been living in Tokyo since 2010, continuing to explore the worlds of art and music.
Bix's Painting Website  
www.beatrixfife.com

Mamoru KATAGIRI

"Marki"
Mamoru writes the music for Bix&Marki, exploring special jazz harmonies in a contemporary way. He lived in Belgium for 10 years, and graduated from the Conservatoire R. de Musique de Bruxelles in 2010. He is influenced by European jazz music. His playing is like knitting harmonies together in a colorful pattern of sounds.
Mamoru went on a trip to NYC and Europe with his guitar on his back in 1990 after he studied jazz in Kyoto for 5 years with guitarist Takeshi Yamaguchi and had played in jazz units in the Kansai area. He came back to Kyoto and created a gypsy-jazz music unit with violinist Makoto Kobayashi. He also played in blue-grass music bands.
He met Beatrix and philosopher Michael Lazarin in Kyoto, and founded the Phylloxera art performance group in 1995, which continued to present performances until 1999. He started composing music for Phylloxera and for dance groups, like Taihen and Mau dance in 1997. On an invitation from painter Yoshi Fujisawa, he went to Brussels in 1999, together with Beatrix, and after 3 years, entered the Conservatoire de Musique de Bruxelles. He majored in jazz and graduated to a Master Degree at the Conservatoire in 2010. He moved back to Japan, Tokyo, in 2010, where he composes for Bix&Marki, plays concerts and teaches the guitar.