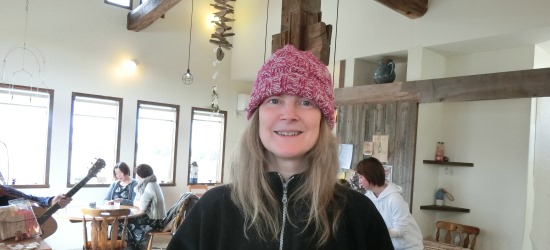 Bix & Marki  End of 2017~18 Tour Report
We left on the 21st of December for Kansai... it was the first time we started our tour before Christmas. We passed Shibuya and its construction works, the long corridors, all the people, looking for escalators or elevators. Shibuya is so inconvenient for people like us with a lot of luggage. They have to make it ready before the Olympics.
Friday 22 December 2017  Osaka Sangyo University
Osaka-fu Daitou-shi Naka kakiuchi 3-1-1   Tel 072-875-3001
http://www.osaka-sandai.ac.jp/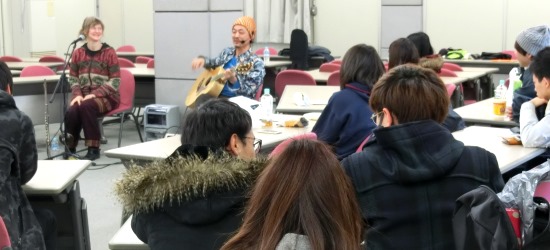 We played for the students, thanks to Ms. Maiko Imanaka, and to the other professors. The students played, spoke French with gestures and intonation, sang and listened to our songs. We thought that the young generation of adults is very open to new things !
Friday 22 December 2017  Bistrot Café de Paris
Kobe-shi Cyuou-ku Yamamoto-dori 1-7-21   Tel 078-241-9448
http://cafe-de-paris.jp/
https://www.facebook.com/bistrotcafedeparis/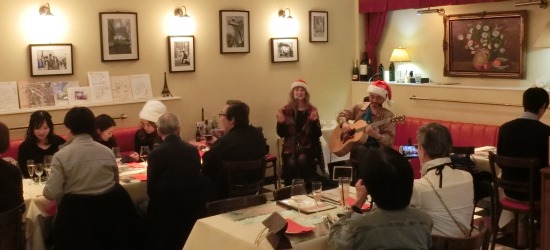 We played the same evening in Kobe for the clients of Café de Paris as well as the members of the French cultural club Découverte. The place is perfect for dinner-concerts because of the space and setting. It was a Christmas dinner so we also did some Christmas songs and a love song for a couple in love.
Saturday 23 December 2017  Alliance Française Tokushima
Tokushima-shi Tokushima-cho 2chome 59 2F   Tel 088-655-8585
http://aftokushima.d.dooo.jp/top-af_jp.html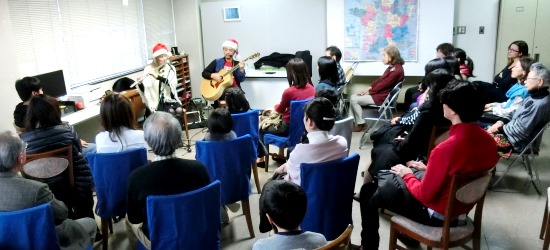 We took the bus from Kobe to Tokushima and played as an opening to the Christmas party at the Alliance. Many people came and some of them even spoke very well Italian (with Bix). Christmas songs, our songs, dinner and talks, it was wonderful.
Monday 25 December 2017  Labor Gakuen 
Kyoto-shi Nakagyo-ku Mibu Sennen-cho 30-2   Tel 075-801-5925
(East of Nishiooji-Shijo, North side)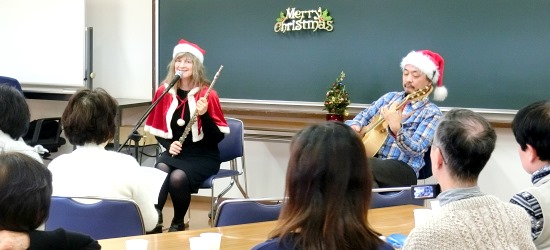 Bix has started to give some English and French lessons here when in Kyoto. This time, we also did a Christmas concert. The people who came to listen to us were wonderful and they all spoke well English. It became an English-speaking concert with French music. It felt good to play in this big classroom changed into a mini party-concert hall. We loved it.
Thursday 28 December 2017  Pizzeria Q
Kyoto-shi nakagyo-ku Nishioji-Aneyakoji  Tel 075-203-8411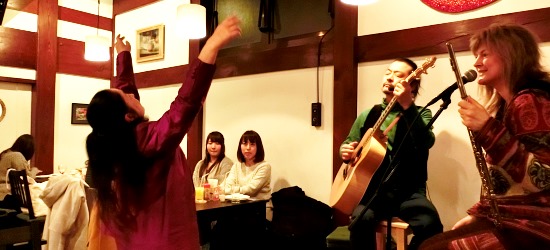 The Pizzeria started last May. It is run by the husband and the son of a good friend of us, the dancer Heidi Durning. We had played here last Summer, and this time we asked Heidi to join us on our piece Tracassette, which she did. We had often played for her dance when we lived in Kyoto, this time it was a real pleasure too. The combination of music, dance and pizza... wow !
Friday 29 December 2017  Cafe Dufi 
Nagoya-shi Naka-ku Shin-sakae 3-17-11   Tel 052 263 6511
http://cafedufi.com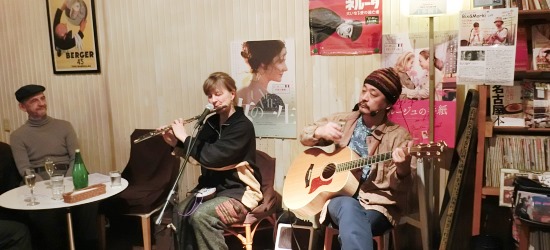 Bix gave a small French lesson before the concert. Two students of hers from the time we lived in Brussels came and it was wonderful to see how they remembered little by little what they had studied then. Bix would like to do more. Our other friends came to the concert and it was warmhearted! Thank you so much !!!
Saturday 30 December 2017  Café SIESTA
Gifu-shi Yanaizu-cho Kitatsuka 4-33  Tel 058-388-5972
https://cafesiesta-gifu.jimdo.com/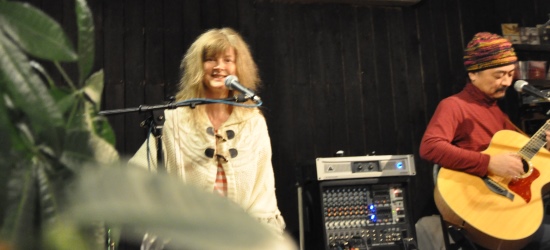 There were many people at Siesta, our photographer friends too. They took pictures of us while we were playing, in this magic place created all by the owner himself. Naohito and Naoko drove us back to the hotel, because Siesta is a long walk from the station … But we always feel welcome.
Wednesday 3 January 2018  nora café
Shiga-ken Koga-shi Minakuchi-cho Sakoudo 292-2
Tel 0748-62-1157   https://www.facebook.com/noracafe.noracafe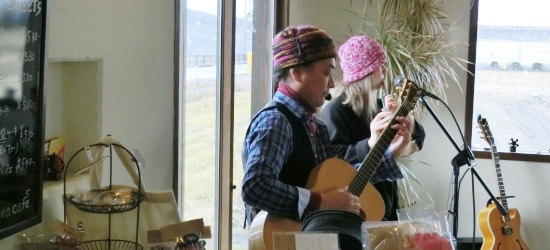 We arrived at our friends' house in Kibukawa the day before and played the next day at 1 pm in this artistic and relaxing café. The owner plays the guitar and is happy to play some tunes with us. We played 2 jazz standards, All of You, The Girl from Ipanema, and La Javanaise by Gainsbourg , sung by Marki. We got to know two color therapists who were really on the same wavelength as us…
Thursday 4 January 2018  Unshu-do
Osaka-shi Kita-ku Sugawara-cho 7-2   Tel 06-6361-3903
http://www.iori-unshudo.com/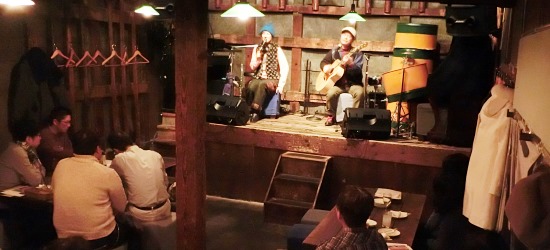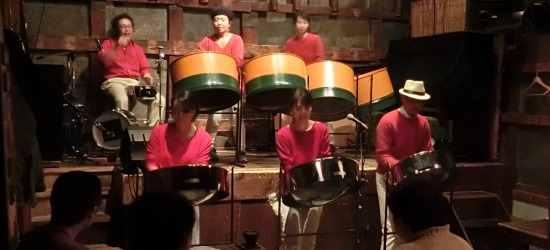 A couple of friends from the time we were living in the Kansai area started 2 years ago to learn to play the Steel Drum and caribbean rhythms. We asked their group C.O. Steel to play as our guests, and we had the rhythm in common in our music ! It was wonderful. Thank you to you all!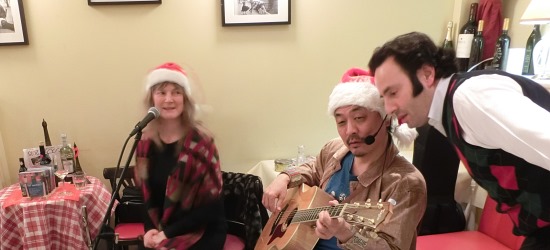 We came back to Tokyo on the 5th of January and it was colder in Tokyo than in Kyoto. This End-of-the Year tour was longer but we had days off and teaching days. We liked that, and will probably continue in this direction. While we travelled Marki and Bix came up with new ideas of projects to realize in 2018, especially in fields connecting language and music. Yes ! Thank you to you all who came to see us and to you who follow us on our journeys !

19.End of 2017~18 Tour