Bix & Marki  End of 2018~19 Tour Report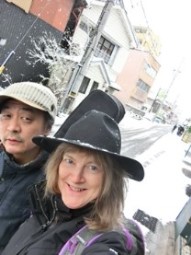 23Dec Shizuoka ~ 24Dec Hamamatsu ~ 25Dec Toyohashi ~ 26Dec Anjo ~ 27Dec Nagoya ~ 28Dec Gifu ~ 30Dec Kyoto ~ 3Jan Koga

We left Tokyo in the morning of December 23rd and came back on January 4th 2019. A way of bringing a little musical light in the cold time of Winter…



Sunday 23 December 2018  espace éclatant
Shizuoka-shi Takajou 2 chome 10-25 Oniwa apartment
Tel 054-260-4613   https://www.facebook.com/espaceeclant/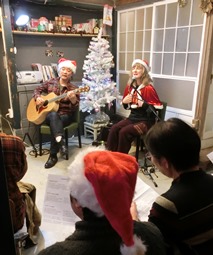 An afternoon-concert of this beautiful little French school called Eclatant. We spoke with them about Christmas, France and Europe, sang Christmas songs in French and then gave our concert. After our performance, one of the teachers went to sing in a choir in front of the station and we went to see him perform in his Christmas-tree outfit.
Monday 24 December 2018  IGUZIONE cafe
Hamamatsu-shi Naka-ku Takamachi 200-25  Tel 053-454-3131
https://www.facebook.com/iguzione.cafe.hamamatsu/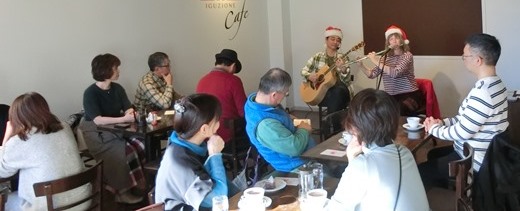 This was also a Bix&Marki-Christmas-afternoon concert. It was our first time in this very nice and spacious café, with a great audience of French speakers, musicians and others ! Jean-Loup who lives in Hamamatsu and teaches French (some of his students were there) came too…



The logo is like a labyrinth, based on the owner's name Iguchi. This labyrinth seems to represent the intricate thinking and absolutely open mindedness.
Tuesday 25 December 2018  café & gâteaux Knohd
Toyohashi-shi Ekimae-oodori 1-111  Tel 070-6533-6664
http://knohd.jp/   https://www.facebook.com/knohd2012/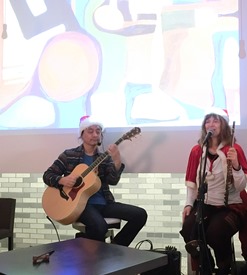 The café is a cake shop, a café and a place for people to meet. We projected some of Bx's paintings on the wall while we played. We also sang Christmas songs and spoke with the audience. At the end, a big jam… Good first time in Toyohashi.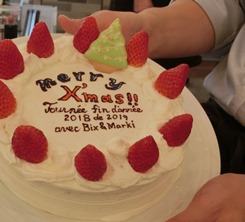 Knohd makes cakes only on reservation with messages and decorations that you can order, like this cake that they gently prepared for us.





Wednesday 26 December 2018  Cafe B+
Aichi-ken Anjou-shi Shinmei-cho 16-13   Tel 0566-78-1147
http://cafeb.client.jp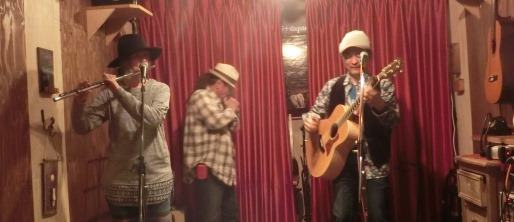 Yoko chan's harmonica brought a color of Blues to 2 of our songs. It was the second time for him too to play with us at Café B+ which has a lovely audience and is a place open to musicians. The owners are both musicians too.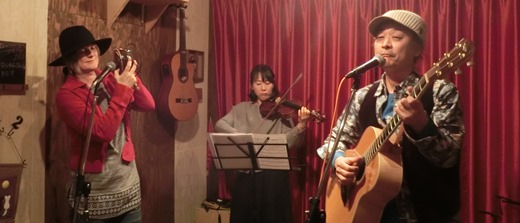 We played with Miwako 's violin which gave a more dramatic dimension to the 4 songs that we did together. The sound of the violin with our voices and harmonies made it more interactive, and Bix loved to play a flute solo together with the violin.
Thursday 27 December 2018  Cafe Dufi 
Nagoya-shi Naka-ku Shin-sakae 3-17-11   Tel 052 263 6511
http://cafedufi.com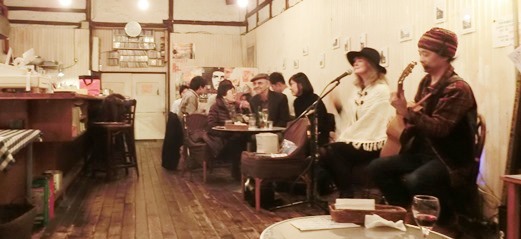 We usually play in café DUFI when we come to Nagoya and this time Tomohiro Hayashi – Richard – had prepared an exhibition of his beautiful and mysterious drawings, freely set on the walls with magnets to be moved around, the size of postcards.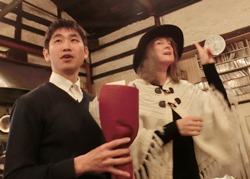 In this exhibition - concert the drawings and our music made us connect the pictures and the titles, the lyrics of the songs, the rhythms and the harmonies. We talked about the drawings and with Richard in between the songs. It was an eye-opening concert.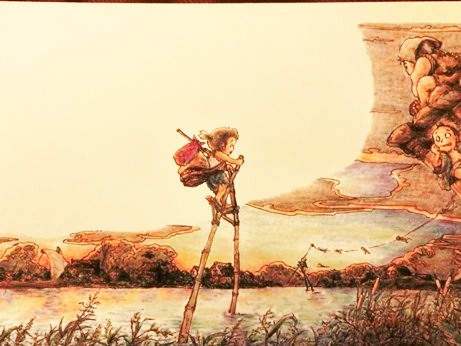 Richard's drawings are made for writing words on them and have particular titles in French and Japanese. For example one is 'Avant et derrière' , before in time and behind in space... How about this one… what is the title? You can choose to look at them with or without words…
Friday 28 December 2018  energy cafe OPEN SESAME
Gifu-shi Oritate 785-1   Tel 058-234-3505
http://opensesame-gifu.jimdo.com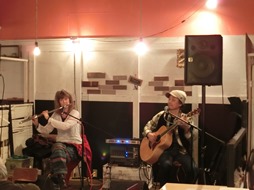 Our friends from Gifrance: thank you to all of you… and to Gilles (French teacher at the university of Gifu) and his family who came to see us. We were supposed to play in the other restaurant owned by the same owner in Gifu, called Siesta, where we had played many times before. Unfortunately the restaurant burnt down in September, due to an accidental fire. We played in Open Sesame hoping to bring new energy and support in these very hard times for them. Things happen in life, and music may sometimes bring strength and consolation.
Sunday 30 December 2018  Bistrot La Boucle
Kyoto-shi Nakagyo-ku Daimonji-cho 340-1   Tel 075-708-7065
https://www.facebook.com/LaBoucle.Kyoto/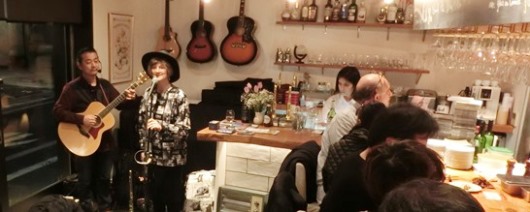 Downtown Kyoto, we played in this restaurant for the first time. The sound in the space was really good. Friends came and we made friends. Thanks to the big windows, we noticed while playing that many foreign tourists were walking in the streets. Kyoto is getting more international…we think it is in a good way.
Wednesday 3 January 2019  nora café
Shiga-ken Koga-shi Minakuchi-cho Sakoudo 292-2
Tel 0748-62-1157   https://www.facebook.com/noracafe.noracafe



In the New Year, we went from Marki's family home to Shiga, next to Kyoto. We played 3 songs with the owner Mr. Ooga on his guitar, this time very soft and airy. One of the songs was ours, another was a request from one of the customers who came to see us last Summer and the 3rd one a French song people know in Japanese but not in French. Also, a guitar student of Marki's, from Kyoto, came to see us. He walked 25 min in the rice fields to reach the café. He said it was so nice.

This tour was maybe more relaxing than usual but at the same time the number of people coming to our concerts seemed to have increased. Tension and release. On the road forever!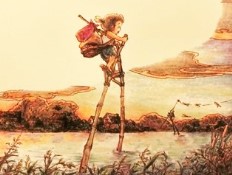 In this picture drawn by Tomohiro – Richard – Hayashi ...
a boy who tries hard to walk on stilts, in the water of society, and the more he struggles the better balance he seems to get …


Thank you so much to all of you for supporting us and see you soon again !

22.End of 2018~19 Tour