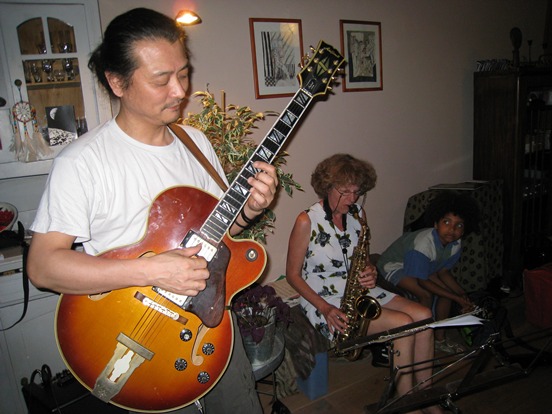 Komazawa 3 Chome
Guitar and Language School
  Profile
Mamoru KATAGIRI "Marki"
Marki started to play the guitar at the age of 10. After graduating from high school in Kyoto, he learned jazz guitar for 5 years with Yamaguchi Takeshi. Marki then played mainly in jazz trios, giving concerts in the Kansai area. After staying some time in NYC in 1990, he traveled to various countries in Europe while playing the guitar in the streets, for more than a year. Back in Japan, he started playing music for theatre groups (Taihen, Osaka, Maou Dance, Kyoto etc...) and in the performance group Phylloxera Performance Group, where theatre and dance broadened his view of playing music and jazz, but also composing and arranging...

In 1999 he moved to Brussels, Belgium, where he lived until the Summer of 2010 and studied jazz guitar: arrangement, composition & playing, at the Conservatoire Royal de Musique de Bruxelles. He got his Master Degree and decided to come back to Japan.

Marki now plays in Japan in the duo Bix&Marki which has a unique dreamy sound. He composes all the songs for it. He also plays the ukulele, the bass and the shamisen, and speaks French and English.